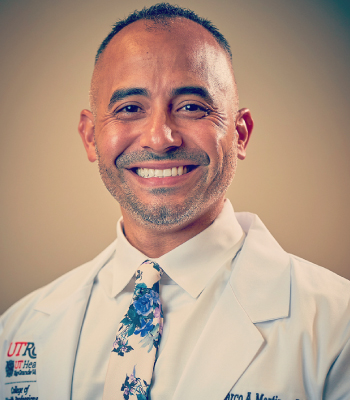 For Marco Martinez '08, finding community as a Brown student was more than a cherished college experience: it was an inspiration. He's been a staunch advocate for inclusion efforts throughout his time as an alumni leader. As a past president of the Brown University Latino Alumni Council and current member of the Association of Class Leaders board who is chairing the Diversity, Equity, and Inclusion committee, Martinez was recognized with the 2022 Alumni Service Award for distinguished, continuing volunteer service to Brown. 
"I do not foresee myself ever excising volunteerism and philanthropy from my life," reflects Martinez. "For me, it is a small expenditure of time, energy, and passion, with a great impact as a byproduct." 
Martinez has long been committed to making a difference in the lives of others. After earning his degree in international relations and Latin American studies at Brown, Martinez returned to his Texas community as an educator with Teach for America. During his decade-long classroom career, Martinez taught everything from middle school science and pre-AP chemistry to algebra and world cultures. He distinguished himself as one of the nation's top teachers by earning the prestigious National Academy of Advanced Teacher Education apprenticeship.  
Martinez then shifted focus, returning to the classroom himself to earn his master's degree in global health from Georgetown University in 2017. He also has recently received a second master's degree in physician assistant studies at the University of Texas Rio Grande Valley with the hope of combining his clinical and academic expertise to work with patients at a global health organization. Throughout his studies, Martinez has remained generous with his time and talents by serving as a volunteer at a clinic in Guatemala.