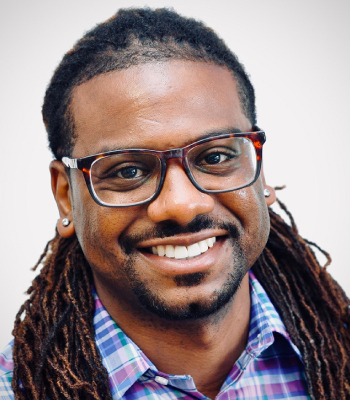 Eldridge H. Gilbert III '05 is a teacher, so he knows firsthand the critical role that academic institutions can play in a young person's life. With his work as a Brown volunteer, he's hoping to help the next generation of Brown alumni find their way to College Hill.
Gilbert has been a volunteer for the Inman Page Black Alumni Council (IPC) since he graduated and has been one of the driving forces behind the council's Black student matriculation campaign. This volunteer-driven effort is increasing the diversity in Brown's incoming classes by fostering relationships between alumni and students who have been accepted to the University. In recognition of his leadership and dedication, Gilbert was honored with the 2022 Joseph M. Fernandez '85 Award, which is given each year to celebrate service to the University community that brings diverse alumni together.  
A longtime Brown volunteer, Gilbert notes that his service has been mutually beneficial. 
"Volunteering has helped to expand my network and grow the types of experiences I've had," he says. "I know without being involved in IPC and working with the Brown Club of New York, I would not have met so many dynamic people from Brown nor would I have known the greatness of some alumni of color and their work." 
At Brown, Gilbert concentrated in Africana studies and psychology before joining the Teach for America program in Houston, Texas after graduation. He then became the founding school principal of YES Prep North Forest, and later put his educational expertise to use by overseeing and advising other principals as the managing director for KIPP Bay Area public schools. Today, he continues to inspire other leaders and educators as the chief schools officer for Coney Island Prep and is a sought-after leadership coach.