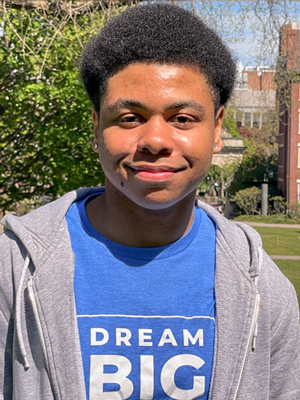 It's Friday morning and Teidrick J. Banks '25 has quite the day ahead of him. First up is organic chemistry class. After that, he jets over to his macroeconomics class. As soon as that's over, he's meeting up with some friends at The Ratty where they chat about the campus clubs and groups they're part of — and also dissect the latest Marvel movie. Then, he's on to a playwriting workshop to cap off the day.
It's a typical Friday for Banks, and one he knows would be atypical anywhere but Brown.
"The variety of classes, student groups, organizations, and activities at Brown is mind-boggling," he says. "The best part is that you're really encouraged to explore everything and anything. Whatever it takes to find yourself."
The freedom to explore, anchored by the Open Curriculum, is what first drew Banks to Brown. An economics and pre-med concentrator, he sought a college experience that nurtured his curiosity and didn't restrict him to a single academic path.
Inspiration from 'Strange' beginnings
Pursuing a career in medicine has been on his mind since he was 14 years old when he first saw the Marvel film "Dr. Strange." It wasn't the character's abilities as a master of the mystic arts that inspired him, but rather his abilities as a neurosurgeon.
"I remember watching the opening scenes where he's performing surgery to remove a bullet from a patient's brain. I was just in awe and left the theater thinking, 'That's what I want to do,'" he says.
Despite his affinity for neurosurgery, Banks isn't pigeonholing himself into one career track just yet. He's open to other medical fields, including dermatology, and even discovering how his economics concentration could somehow play a role. He's also been nurturing one of his biggest hobbies: writing.