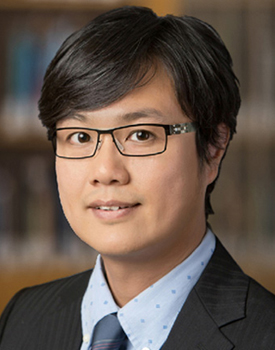 Yu-Wen Alvin Huang has made a name for himself with his research on Alzheimer's disease and aging. But he didn't start out in the lab. Huang first began his medical career as a neurologist, treating patients suffering from neurodegenerative disorders. It was fulfilling work, but it was also troubling.
"I was frustrated with the lack of therapeutics," he says. "When I saw my patients, there wasn't any treatment I could offer. The biggest hurdle for creating effective treatments is that we don't understand the disease mechanism enough."
To get that understanding, Huang shifted his focus toward laboratory research and has since innovated stem cell technologies to uncover the molecular and cellular mechanisms of brain function in health and disease. As the GLF Translational Assistant Professor of Molecular Biology, Cell Biology and Biochemistry, he's been able to continue that research at Brown. He admits that his techniques are experimental at the moment, but thinks that risk-taking is necessary to make important breakthroughs, particularly where Alzheimer's disease is concerned.
"I've been in the field for a while, and it's been dominated by theories that have been established for decades," he says. "There's been minimal progress, so the field needs to welcome new ideas and new concepts."
And, he thinks that Brown is the perfect place to do it.
Meeting the urgent need
The numbers are staggering: more than six million people are currently living with Alzheimer's disease in the United States, and more than 125 million worldwide are expected to be living with the condition by 2050.
There is currently no cure and no reliable treatment proven to stop the progression of the disease. But there is hope. 
Brown's new Center for Alzheimer's Disease Research, which launched in April 2021, is supporting experimental techniques, joint projects across departments, and promising clinical trials focused on early detection and effective treatment.
The center integrates existing expertise within the Robert J. and Nancy D. Carney Institute for Brain Science and the University's Division of Biology and Medicine. Select projects also coordinate with faculty in the School of Public Health to promote community involvement.
"We are getting closer to understanding Alzheimer's disease, inch by inch," says Huang. "I think what this center can really do is make better use of all the resources and talents here at Brown. Breakthroughs are not going to happen with just one investigator."