The human brain has proven to be one of science's greatest enigmas, leaving us with many deep and profound unanswered questions. How does disease change the brain? What causes aging? How does memory work?
Answering these questions will take scholars and researchers from a variety of fields. For Brown's Carney Institute for Brain Science, the embrace of working together across departments is one of its greatest selling points.
"Carney is a really collaborative environment," says Associate Professor Stephanie Jones. "You have the connection to area hospitals. You have the connection to exceptional students. It's a place where the interdisciplinary work I do can thrive."
Jones came to Brown nine years ago, seeking to move her work forward in a more cooperative environment. Postdoctoral researchers Carmen Kohl and Rex Liu chose Brown for similar reasons—the chance to work with people of different backgrounds and the wealth of opportunities for growth that the University offers.
All three found what they were looking for at the Carney Institute, which supports research, training, and outreach for experimentalists, theorists, engineers, and clinicians at all levels. With more than 180 affiliated faculty members in 20 units, more than 60 postdoctoral researchers, and eight affiliated graduate programs, the Carney Institute is pursuing research that has real-life, human applications.  
"Cognitive neuroscience is a big and broad field," says Liu, whose work attempts to bridge the gap between artificial and natural intelligence. "But the idea is that some of the models used on the more theoretical side could be used to understand diseases or mental disorders on the clinical side. There is a lot of potential for cross-realization of ideas." 
Accelerating collaborative discovery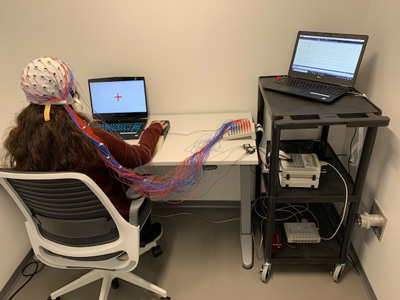 One way the Carney Institute is fostering this cooperative work is through its new Center for Computational Brain Science. Launched in July 2020, the center brings together basic brain science researchers, engineers, mathematicians, and computer scientists to develop innovations for clinical applications and commercialization. Jones, Kohl, and Liu are all involved in work that falls under the center's umbrella.
Jones's laboratory—where Kohl serves as a postdoctoral researcher—explores the ways in which electrical signatures in the brain relate to behavior in both health and disease. This research has the potential to affect how we diagnose and treat issues such as chronic pain, depression, post-traumatic stress disorder (PTSD), and addiction.
"How do our brain rhythms change under these conditions? What are the mechanisms that are regulating these changes," says Jones. "If we can understand that, we can create improved brain stimulation practices to try to re-normalize things."
Part of this work involves creating models to make predictions about the patterns they see when areas of the brain are stimulated. They turned this modelling framework into software, called Human Neocortical Neurosolver, which they are sharing with others at Carney and beyond. 
"We have this neuroscience model, but to get it into the community we need computer scientists," says Kohl. "The fact that these different people are working together sounds like a small thing, but I've not come across it at any other institution in this way and to this extent."
Liu agrees. He is working with two faculty members on two separate projects. In collaboration with Professor Michael Frank, the director of the Center for Computational Brain Science, he is modelling how decision-making works in the human brain to improve current machine learning technology. With Associate Professor Thomas Serre, he is exploring whether machines can learn to recognize relevant information from images that would help them perform complex tasks.
"We know that artificial intelligence can be powerful, but it can also be rigid in many ways," Liu says. "Together, I'm hoping we can develop the greater potential of this technology for the betterment of human society."
Support catalyzes success
Brain science research at Brown benefits from the University's decades-long commitment in this area and the funding that Carney has attracted from within and beyond the Brown community. 
Both Kohl and Liu are supported at Brown by a postdoctoral research fund established by Paul Salem '85, a member of the President's Advisory Council for the Carney Institute. Salem says his support stems from a belief that neuroscience is an area in which Brown can lead the way forward.