Brown student veterans can face a unique set of challenges when they arrive on campus—whether that's re-integrating into a classroom setting, balancing family life, or pursuing a second career. After navigating these challenges themselves, alumni veterans are in a prime position to help.
That's one reason why a group of enthusiastic alumni, parents, and Brown community members have come together to form the Brown University Veterans Alumni Council (BUVAC). Founded by Brown parent Larry Eichler P'09 and led by a 15-person Veterans Alumni Council Board of Advisors, this small contingent is making major strides in supporting Brown student veterans and promoting Brown's growing focus on expanding military-related activities.
"Veterans who have navigated the complex transition from the military, back to school, and into the workforce are invaluable resources," says BUVAC Board Member Scott Quigley '05.

Bringing in the reinforcements 
As its first initiative in 2018, BUVAC piloted an alumni-student mentorship program. Now available to all military-affiliated students who requested a mentor, it's clear that the effort is having a positive effect.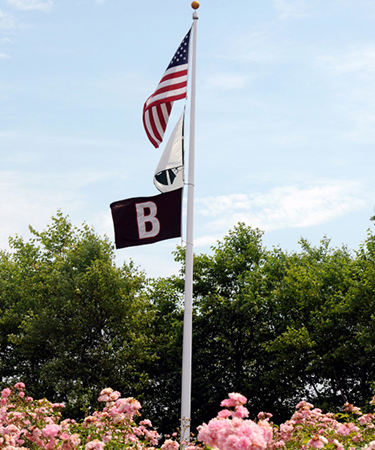 "Brown's Veteran Mentoring Program has been instrumental in helping me form my plans for work after graduation, graduate school, and beyond," says Ethan Fecht '20. "I can't overstate how helpful it is to be able to consult with Brown veteran alumni whenever I need guidance. From bankers to policy advisers and professors, it's hard to imagine having a more diverse but unified group to support us as mentees."
And Aimee Chartier '21 says: "My mentoring experience has given me the opportunity to connect with two wonderful Brown alumni who also served in the military. Their wisdom and insight have made me more cognizant of the opportunities available to me at Brown University and encouraged me to explore different internship and career opportunities. I encourage the new student veterans to build relationships with BUVAC, try the mentoring program, and take advantage of career coaching!" 
In the school-year-long mentorship program, the mentor-mentee pairs explore topics such as goal setting, internships, broadening their networks, and post-graduation plans. In the end, mentors hope their mentees will graduate with solid transitional road maps to navigate the journey from military to student and civilian. 

Meanwhile, back at headquarters...
Mentorship is just one of the initiatives that BUVAC has launched. In addition to producing a biannual newsletter for those interested in military affairs at Brown, the group has partnered with Brown's Office of Military-Affiliated Students, so that alumni can serve as a reference and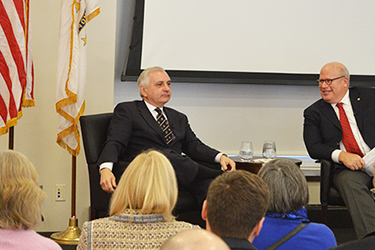 potential resource when veteran or ROTC students come to the office in need of further resources. 
BUVAC also hosts at least two on-campus events each year: one on Veterans Day and one to complement the Commissioning Ceremony during Memorial Day Weekend. Last year, the Veterans Day forum included an engaging conversation with the Honorable Jack Reed—an Army veteran and United States senator representing Rhode Island—about what led him to initially serve in the military and then pursue a civilian life dedicated to public service.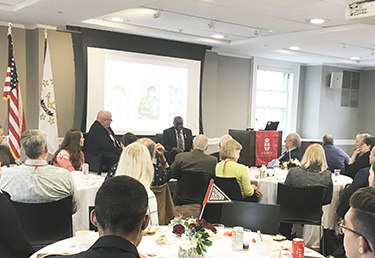 Most recently, BUVAC sponsored a Veterans Day luncheon and forum featuring Jeffrey F. Hines '83 MD'86—a former battalion surgeon, PLME student, and current Brown Corporation member and co-chair of the Brown Annual Fund—in conversation with the honorable Benjamin L. Cassidy '75, a retired Marine Colonel. 

The two alumni discussed the impact of a Brown education and how advantageous it is to engage veterans in the fabric of the University. "There is a richness that our intergenerational campus brings," said Hines. "The skills I learned at Brown had an impact on my ability to problem solve and to act." The event was attended by nearly double the number of expected guests and included President Christina H. Paxson and Congressman David N. Cicilline '83.

Roger that.
The luncheon and forum were held on the heels of the University's Veterans Day Ceremony, where President Paxson announced an exciting new veterans initiative, which aims to increase financial aid for student veterans, double the number of veterans on campus in the next three to five years, and extend its need-blind admission policies to include prospective students who have served in the U.S. Armed Forces.   
As part of the initiative—as well as Brown's $3 billion BrownTogether campaign—Brown hopes to raise funds for a $25 million endowment to offer veterans full financial support on a long-term basis. (For more information on this fundraising campaign, email alumniveterans@brown.edu.)
This new effort is one more step in the University's rich and distinguished history of supporting men and women in uniform. 

 
Power in numbers
Looking ahead, BUVAC founder and co-president Larry Eichler P'09 hopes to expand BUVAC's reach. "We are off to a good start and I am encouraged by the enthusiasm our presence on campus has already created. From the administration to the faculty to student veterans and veteran alumni, we are all working together to build the foundation for a strong military-affiliated community at Brown," says Eichler. "We will continue our outreach so that the entire Brown community will be able to get involved and make BUVAC a strong council, providing support and a network for student veterans and alumni alike."