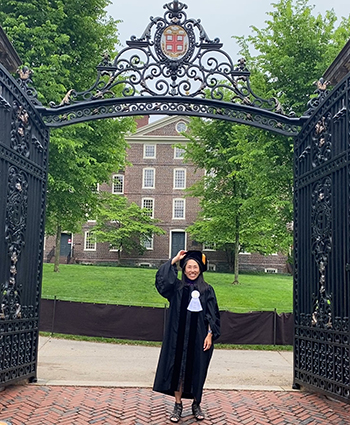 Mandy Tachiki '95 has long been an enthusiastic contributor to Brown. While on campus, she relished the opportunity to self-direct her own course of study through the Open Curriculum, sampling a variety of courses in many departments as well as trying on a variety of roles: as a WBRU DJ, a tour guide, a resident counselor, a Meiklejohn advisor, a teaching assistant, a tutor, and a member of the Undergraduate Council of Students Committee on Admissions and Financial Aid, to name a few.

"Navigating life based on pursuing your interests and the things that you're passionate about, that has all stayed with me," she says. "The curriculum really molded me in that way."
Today, while Tachiki works as a corporate attorney in the Bay Area representing venture capital funds and tech companies, she still finds time to play important roles at Brown, currently serving as the co-chair of the Women's Leadership Council and as a mentor for the Women's Launch Pad.
"I love the Brown community, and volunteering is an easy, fun way to stay connected to this incredible group of people," she says. "The community is just full of life, full of passion, intellectually curious, and also caring and kind."
Tachiki was recognized for her wide range of volunteer efforts for Brown with the 2022 Alumni Service Award, which is given annually for distinguished, continuing volunteer service to Brown in any field of alumni activity.