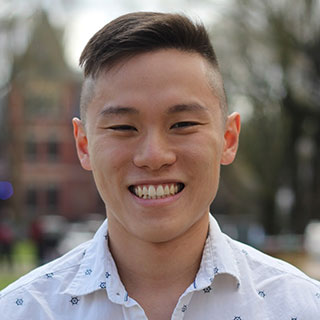 Matthew Lo '18 ScM'19 cuts an impressive figure. Just a few short years ago, as an undergraduate, he started an organization providing low-cost knee prosthetics to amputees. He also volunteered his time for Design for America. More recently, he has been promoted to the position of senior product designer by tech company Onshape.
Why do you do what you do today and how did Brown play a role?
At Brown, I learned that I was passionate about human-centered product design and finding ways to help my community. I found my passion mainly through my involvement with the Brown Design Workshop.
I also enjoyed getting involved with my surrounding communities in New England. It led me to try different ways to use the design process to help address different problems and challenges. For example, I became involved with Design For America to address local problems through the lens of design. I also co-founded Koi Prosthetics; we looked to create affordable prosthetic devices for developing countries. Brown had lots of resources that supported me as I explored ways to apply my passion, ranging from courses to mentorship to start-up help.
Now, as the Senior Product Manager at Onshape, a cloud-based 3D computer-aided design software, I utilize all of the design and engineering skills I learned at Brown. I provide support for companies that use our software to help them 3D model their products. Brown helped me find my passion and helped me create a career out of it.
Why Brown?
Brown was one of my top choices for college because of its great educational reputation and its approach to learning. Brown's Open Curriculum allowed me to explore my different areas of interest. I could work towards my concentration while taking courses that either sounded interesting or gave me new insights about areas I was not familiar with. In addition, I was attracted to the supportive atmosphere. The courses really challenged me, but I could find support in my professors and in my classmates. I was encouraged to ask for help and to work with others.