When Katie Yetter '22 was young, she told her father she had a dream about attending an Ivy League school. But, as a high school senior, she found herself excited by the idea of joining the U.S. Marine Corps. 
"I wanted to do something different and something where I knew I was making a difference," she says.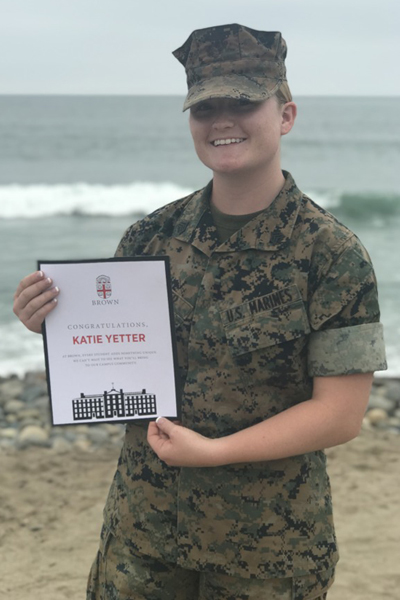 Yetter spent her entire enlistment with the same Marine Corps aircraft squadron as a mechanic, where she viewed those in her immediate work center as a family—a tight-knit community offering support and opportunities for growth.
Now a junior concentrating in cognitive neuroscience at Brown, she has found a similar sense of kinship on College Hill as part of the University's burgeoning student-veteran community.
"When I got into Brown, I realized that I was finally going to be able to take the next step toward my future career," she says. "It was terrifying, but knowing that I was going to be a part of the Resumed Undergraduate Education (RUE) program was very comforting. I knew that I would be joined with other students who, even if they weren't in the military, understand what it's like to not want to go right to college after high school."
Student veterans who are more than six years removed from high school apply to Brown through the RUE program. In 2014, the University established the Office of Military Affiliated Students (OMAS) to strengthen the support for veterans looking to transition into higher education. Whether they applied to the RUE program or had credits to transfer from previous college stints, student veterans could rely on OMAS for guidance through the admission process and information about financial aid resources, career development, and community-building activities.
Three years after the establishment of OMAS, a group of alumni and parents launched the Brown University Veterans Alumni Council (BUVAC) to support activities and programming for student veterans on campus. The Council's mentorship program pairs military students with Brown alumni veterans or current service members.
"It's amazing how many individuals in Brown's community who have no military connection reach out to be allies to our students," says Kimberly Millette, OMAS program director and a veteran of the U.S. Air Force. "As the number of veterans grows on campus, we are working to ensure they feel like they are prepared for their classes and for life at Brown."