When Professor John Savage began his career, the idea of a dedicated department for computer science seemed like something out of science fiction. More than 50 years later, computer science has become Brown's largest concentration as the digital age creates new opportunities—and new challenges.
"To understand and address the problems created by these new technologies, computer scientists must engage with political scientists, sociologists, psychologists, historians, area specialists, and others," said Savage, An Wang Professor Emeritus of Computer Science, during his recent talk Cyber Security: A Societal Grand Challenge. "While the hardest problems cross disciplinary boundaries, Brown is poised to continue its long tradition of multidisciplinary research and outreach in addressing the new problems of the cyber age."
Honoring a legacy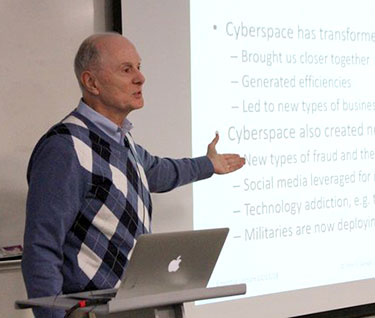 The talk was a retirement lecture in name only. Savage is currently teaching in Brown's new Executive Master in Cybersecurity degree program and will be teaching CSCI 1800 Cyber Security and International Relations to more than 185 students next semester. At the reception afterward, Provost Richard Locke announced an important milestone: the establishment of the John E. Savage Endowed Professorship in Computer Science, funded with very generous gifts from Savage's family and friends.
Intended to honor his legacy and support future scholars, the gift marks the beginning of a major fundraising effort in support of CS With Impact, the biggest expansion in Brown Computer Science (CS) history and part of the BrownTogether campaign. As part of this effort, CS will seek to raise the funds needed to create 10 new endowed chairs, which will be supplemented with the creation of five lecturer positions, for a total of 15 new faculty slots.
Upping Brown's bandwidth
Since its founding in 1979, the Department of Computer Science has become an intellectual hub for researchers who are helping decipher disease, understand the human brain, keep our data secure, and develop new technologies that improve lives.
To ensure that the University remains at the forefront of developing these tools, and that its students have access to the most advanced computer science education, CS With Impact will dramatically expand Brown CS over the next five years. New faculty will help mitigate enrollment pressures and build bridges to other parts of Brown through joint appointments with other disciplines.