First-year students don't always choose upper-level courses. Even when those courses reside within their anticipated concentrations. But the possibilities that existed with Global America: Gender, Empire, and Internationalism Since 1890, taught by a postdoctoral fellow at the Pembroke Center for Teaching and Research on Women, appealed to Matthew Marciello '21 enough to take the plunge. "As someone who plans to double-concentrate in American Studies and Gender and Sexuality Studies, I wanted to find something that could link the two and also extend my horizons."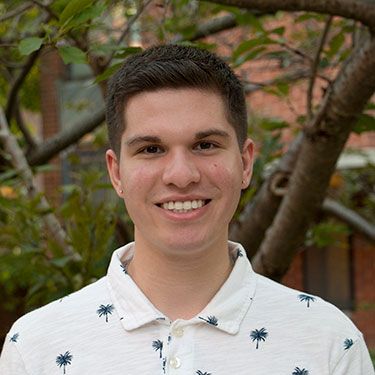 The course did that and more.
"I definitely got a lot of history, which was learned implicitly," he says. "Just going through the readings I picked it up and then was able to focus on the more complicated issues of argumentation, connection, and critique. I didn't realize they would work together seamlessly."
Teacher / researcher / learner
Marciello took advantage of a one-time-only course taught at the Pembroke Center last year. It was the brainchild of Talya Zemach-Bersin, nicknamed Professor Z-B by some, who accepted a position as a Nancy L. Buc Postdoctoral fellow for 2017-18. Each year three postdocs—young scholars who have recently completed their Ph.D.'s—are chosen for one-year appointments. They, in turn, bridge the professors' innovative explorations and those of graduate and undergraduate students; teach undergraduate courses of their own design; benefit from research and conference funding; and develop professionally through faculty mentorship.
Zemach-Bersin's course reflected her research in how women contributed to the making of U.S. global power through the education and socialization of young people. Prior to arriving at Brown, she had won Yale University's prize for best humanities dissertation. And her manuscript was already under contract with Harvard University Press. Being able to devise a course of her own, however, brought a new dimension to her work: "Teaching makes the scholarship matter."
The fellowship was "a lifeline," she says. Precisely what she needed to complete her project and focus on developing her own teaching and research. Besides time, she received the funding necessary to travel to the Hoover Institute and Berkeley's Bancroft Library to visit their archives and examine historical sources for her manuscript. In addition, she participated in the Pembroke Seminar—led by Leela Gandhi, John Hawkes Professor of the Humanities and English—which provided her with meaningful resources as part of the center's vibrant scholarly community.