Maddock Alumni Center
This beautiful historic house is alumni central—a place for you to work or to relax. 
Here, you can rendezvous with other Brunonians, get information on things to do in the area, or simply to stroll the beautiful walkway and garden. 
Whenever you're back on campus, you're welcome to pop in at 38 Brown Street.
Fall/Winter/Spring: Monday–Friday, 8:30 a.m.–5:00 p.m.
Summer Hours (July and August): Monday–Thursday, 8:00 a.m.–4:00 p.m.
Meet with other Bears.
Want to meet a friend, but don't fancy standing outside in the Providence rain, sleet or snow? Please come in and make yourself comfortable in one of several sitting rooms.
Make the most of your campus visit.
At Maddock, you'll find one-stop shopping for information on campus tours, libraries, local accommodations, local restaurant listings (often with some informed advice as to what to try—or not), and what's going on. On business? At Maddock, you'll also receive help connecting to the University Internet, and the staff can offer you a quiet place to work.
Engage with Brown.
Stop in to find out how you can become involved in or support one or more of the many BAA programs that serve Brown students, potential students, and alumni. It's an opportunity to get behind and be a part of an ever-evolving Brown.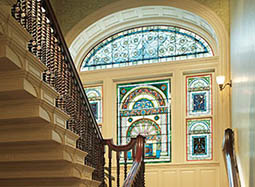 Enjoy this architectural gem.
Named in honor of Paul L. Maddock '33, the Maddock Alumni Center occupies the former home of Chancellor William Goddard, Class of 1846, whose family built the house around 1830. Read the Maddock Guide.
Stroll the Maddock Walkway and garden.
The Alumni Brick Walkway, home to thousands of bricks honoring Brown alumni, parents and friends, enables alumni to celebrate their lifelong connection to Brown.
Celebrate your connection and support alumni programs by purchasing a brick for this centerpiece of Maddock's beautifully landscaped garden.