"The greatest love I've ever known": VyVy Trinh '11 MD'17 on purpose, teaching, and social change
When Trinh started medical school, she felt a commitment to make a better world. She found an outlet for that purpose in an innovative tutoring program, BRYTE, that would also end up changing her own world.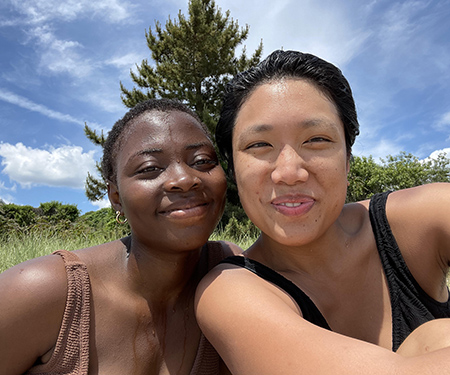 As the daughter of Vietnamese refugees, VyVy Trinh '11 MD'17 knew intimately of the trials faced by those who flee their homelands. Perhaps that is why she was drawn to the Brown Refugee Youth Tutoring and Enrichment (BRYTE) program, a student-led organization that pairs Brown student tutors with children in refugee families in Rhode Island. The program would prove to change her worldview—and connect back to her personal history—in surprising ways. Here, she reflects on how her Brown experience impacted her path, and how her participation in BRYTE continues to play a role in both her life and that of her former pupil, Appoline.
Why did you choose Brown?
As a high school student, I was passionate about so many things, and Brown is a place that encourages students to follow a wide array of passions, no matter how disparate they might seem on the surface. I was particularly drawn to the Program in Liberal Medical Education (PLME) because I was interested in medicine as a tool for progressive social change, and PLME seemed like the perfect avenue to study just that.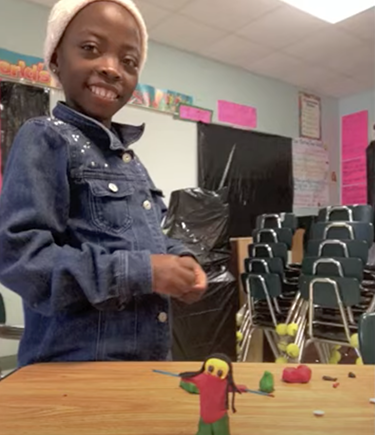 Tell us about your BRYTE experience.
When I started medical school, I found myself searching for community and meaning. I joined BRYTE as a volunteer tutor—a decision that changed my life. I was paired with a ten-year-old girl named Appoline who had recently arrived in Providence with her parents and four brothers as refugees from the Democratic Republic of Congo.
When Appoline was two weeks old, her parents bundled her up and fled to a refugee camp in Burundi. They soon discovered she had a significant chronic illness that prevented her from attending school in the camp. In 2013, they were selected for resettlement in Providence, RI—joining the less than 1% of the world's refugees who ever get resettled. When she arrived, Appoline faced the enormous challenge of entering the fourth grade with no literacy in her native Swahili, let alone any knowledge of English.
How did you approach your role as a tutor?
As her BRYTE tutor, it was my job, along with her educators in school, to help her gain literacy and, more importantly, confidence. In the beginning, when I came over to her family's third-floor apartment in South Providence, Appoline would hide from me or pretend to be asleep. When at last she agreed to work with me, I decided we would make our way through the alphabet three to five letters at a time, starting with the vowels. (I borrowed this pedagogical approach from the book "Holes" by Louis Sachar.) Slowly, one visit at a time, I gained her trust. Together we made our lessons not only safe but maybe even a little bit fun. One time we did some reading from inside a cardboard box. Another time, we made a cooking show.
What impact did this experience have on you?
As a young medical student, I don't think anything could have been more formative for me as a future physician than to watch this young woman, burdened with unimaginable hardship, rise to the challenges of her life with such courage, kindness, and joy. It has been the greatest privilege to be a part of her life. Appoline is nineteen now, and this summer she will graduate from Hope High School as the salutatorian. We are still close to this day. Appoline, her family, and BRYTE as a whole are the greatest love I've ever known!
Tell us about your career today.
Today, I am an OB/Gyn resident physician in the Bay Area (as I write this, I graduate in eighteen days - holy cow!). I also remain deeply committed to community organizing. Over the past few years, I have been engaged in my hospital's chapter of White Coats for Black Lives, where I have primarily been working to support some of the lowest-wage folks who work in our hospital. I've also done some electoral organizing, and I'm a member of the Bay Area chapter of Resource Generation (RG), helping organize 18-35 year olds with wealth and class privilege to fight for a more just world. It's actually RG that radically transformed my giving and is a big reason my partner and I started making a yearly contribution to support BRYTE; I see it as a form of redistribution and a deeply necessary investment in the world I want to live in. 
How did Brown play a role in where you are today?
Brown played an indescribably big role in what I do now and how I do it. My education at Brown pushed me to confront the structural inequality that defines our world, and introduced me to so many sources of inspiration—above all my lifelong friends—to guide me in my commitment to working toward a better world. My partner and I plan to move back to Providence where I hope to keep combining medicine with community organizing in support of the beloved refugee community.