When a university has more than 200 years of history under its belt, it's bound to have a few stories with spookier origins. Brown is no exception.
From floating apparitions to grave matters, here are some of the stranger stories and tales from College Hill.
The most haunted building on campus?
Built in 1770, University Hall has the distinction of being not only the first and oldest building on campus but also potentially the most haunted. During the Revolutionary War, it was converted into an army hospital to treat wounded soldiers. Legend has it that the ghost of one of those soldiers can be seen in a second-floor window at night. 
Magic: The Collection
Hogwarts isn't the only place where you can study witchcraft, sorcery, and magic. The John Hay Library's H. Adrian Smith Collection of Conjuring and Magicana is home to one of the finest private collections of its kind in the world. While you won't find broomsticks or cauldrons, it does hold more than 3,000 books and items related to alchemy, astrology, witchcraft, and the occult — including some titles that date all the way back to the 16th century. (Learn more about this medley of magicana over at the Brown Alumni Magazine.)
Turning over in his grave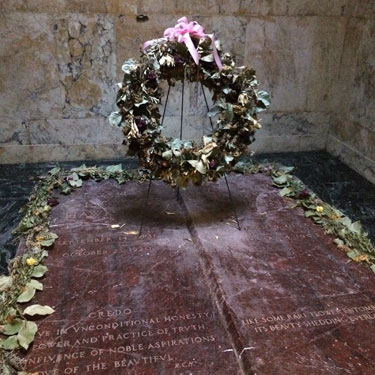 In the early 1900s, General Rush Hawkins built the Annmary Brown Memorial as a mausoleum for his deceased wife. Both are entombed in a crypt at the rear of the building, which also houses an exhibit of American and European artwork from the 17th to 20th centuries. 
Before his death, Hawkins had threatened that if anyone disturbed his wife's final resting place, they would regret it. You probably know where this is going: in the 1970s, several of her mementos were stolen. Needless to say, if ghosts do exist, that thief most certainly received the haunting of a lifetime.
 
A gender-neutral superstition
When it comes to superstitions and curses, Brown doesn't skimp. Allegedly, any female who passes through the Van Wickle Gates more than twice will not get married, while any male who does the same will not graduate. Don't even get us started on the repercussions of walking across the Pembroke seal. 
While these are more well known, Brown folklore tells of another curse—and one that doesn't discriminate based on gender. This myth states that anyone who goes into all three of the "sacred libraries" (John Hay, John Carter Brown, and the aforementioned Annmary Brown Memorial) during their first year will not get married. 
 
One spooky sleepover
The Midnight Organ Recital is one of Brown's most beloved traditions. Every Halloween, Brunonians flock to Sayles Hall with blankets and pillows to enjoy musical numbers ranging from Bach to "Monster Mash"—all performed by University organist, instrument curator and music lecturer Mark Steinbach. 
Got a scary story?
Maybe it's an urban legend passed down from class to class. Or, maybe it's a creepy encounter that happened to you. Share your favorite tales from the spookier side of Brunonia. Use #BrownTraditions