Mimi Pichey '72 came to Brown as an activist and has remained one ever since.
Her passion? Making sure women have access to safe, affordable and effective reproductive health care:something that is as critical today as it was when she was an undergraduate. As a student in the late '60s and early '70s, Pichey was acutely aware of how limited her options—and those of her friends—were in seeking reproductive health services. "Typically, our choices were either expensive or substandard, if available at all," says Pichey. "Or even dangerous, as in the case of illegal abortions." 
As a result, Pichey turned activism into impact by establishing an endowed fund to support women's reproductive health. 
"Brown's Warren Alpert Medical School is at the forefront of schools in the country that sufficiently address issues surrounding abortion, contraception, adolescent pregnancy and parenting, and causes and consequences of infertility," says Dr. Rebecca Allen, associate professor of obstetrics and gynecology and associate professor of medical science. "This fund will advance medical training in women's reproductive health for all students, as well as provide opportunities for the next generation of advocates, educators, and physician leaders working to advance safe and affordable health care for all women."
Support the Women's Reproductive Health Fund
One of those opportunities is the Medical School's Scholarly Concentration in Women's Reproductive Health. And one of those future leaders is Audrey Carr MD'19.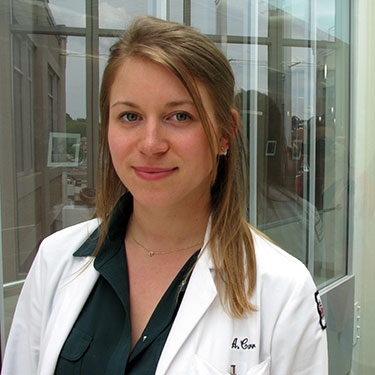 As an undergraduate psychology concentrator at UMass Amherst, Carr was part of a neuroendocrine lab that studied how parts of the brain differed based on gender. She enjoyed the research, but felt she needed something more direct. "I like working with people," she says, "and seeing how what you're doing could change their lives." 
After graduating, Carr landed an administrative job at Brigham and Women's Hospital that ignited her interest in women's health. These experiences led her to Brown's Medical School and to the Scholarly Concentration in Women's Reproductive Health (WRH)—an elective program for medical students who wish to take on independent scholarship in a cross-disciplinary field of interest related to medicine.
Access for students
While at Brown, Carr studies how college student health centers in New England provide access for students to intrauterine devices (IUDs) and subdermal implants, two of the most effective long-acting reversible methods of contraception (LARC). Her research mentor is Dr. Allen, a director of the Women's Reproductive Health Scholarly Concentration.